Research
ISO 9001:2000 implementation in the public sector: A survey in Macao SAR, the People's Republic of China
Purpose
The purpose of this paper is to study the implementation of ISO 9001:2000 in the public sector, using data obtained from a small‐scale and service‐oriented economy – i.e. Macao SAR, the People's Republic of China.
Design/methodology/approach
Based on a literature review on ISO 9001 development, a measurement instrument was established using the management principles of ISO 9001:2000 and hypotheses were developed to test the applicability and effectiveness of ISO 9001:2000. The instrument and hypotheses were tested using responses from managers and executives in public organizations.
Findings
The results show that ISO 9001:2000 is useful in enhancing organizational performance in public organizations.
Research implications
Managers in public organizations must realize that simply adopting and maintaining the ISO 9001:2000 certificate is not enough. More resources and commitment are needed to achieve better organizational performance.
Authors
W.M. To (School of Business, Macao Polytechnic Institute, Macao SAR, People's Republic of China); Peter K.C. Lee (Department of Logistics, Hong Kong Polytechnic University, Hong Kong SAR, People's Republic of China); Billy T.W. Yu (School of Business, Macao Polytechnic Institute, Macao SAR, People's Republic of China)
Citation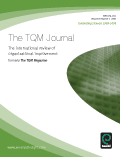 Country
Standards